Before the internet, auctions, and hobby stores existed, it was a simple market for collectibles such as shoes, artwork, games, and cards. However, the market was not efficient in pricing collectibles for hobbyists.
It was difficult to find rare cards and they were only available through newspaper ads, neighbors, acquaintances, and hobby stores. Rarity was determined by the availability and location of a product. Baseball cards gained popularity in the 1970s to 1990s and led to the creation of new hobby stores to sell them. Baseball cards were cheap to produce and could be sold for a significant profit.
During the dial-up internet era in the late 1990s, consumers were not familiar with the internet and were skeptical of buying products online. As a result, they trusted local hobby stores more than the internet. Hobby stores took advantage of this by selling the same merchandise at higher prices due to the customer's mistrust of internet products.
I often paid a premium price at the store rather than the "official card price index" listed in hobbyist magazines. It was not easy to buy from the internet because there was no way to confirm or guarantee that the money paid online would be honored. It was common for hobby stores to list merchandise at higher prices than the market's selling price.
As time passed, consumers began to trust online marketplaces like eBay, and collectibles became more price efficient. Sports card revenues reached their peak in 1991 at $1.2 billion, but since then have dropped to under $200 million as hobbyists lost interest in baseball cards. The saturation of hobby stores reached its peak when store owners realized there were more baseball cards than they could sell. As a result, hobby stores started looking like storage rooms and most baseball cards lost their value.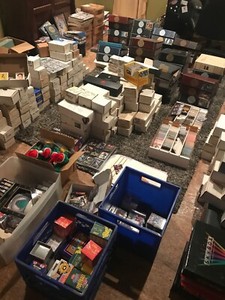 Experienced store owners who recognized the decline of baseball cards quickly sold their entire inventory and stores. The market clearly showed that baseball and collectible cards were not worth much. Smart hobby store owners were able to make a decent profit and shift their attention to the next collectible trend. However, those who took over the hobby stores ended up holding the bankruptcy bag.